DEMO
Powerful and Comprehensive: Reselling Made Easy
Take advantage of the easiest way to sell domain names and services with HEXONET and use our complete, comprehensive and powerful Control Panel solution. The HEXONET Control Panel is provided completely free to resellers and provides tools and services not available through other reseller systems.
One Control Panel to Rule them All
HEXONET's Control Panel makes buying, selling, and managing products easy. And while everyday tasks are easier, Control Panel doesn't skimp on providing resellers the right tools to handle more difficult tasks like web app activations and intuitive filters for backorder placements.
Most importantly, Control Panel is active and always live at HEXONET, meaning Control Panel is constantly being updated with new features, functions, products and services. Best of all, use of Control Panel is completely free for HEXONET resellers.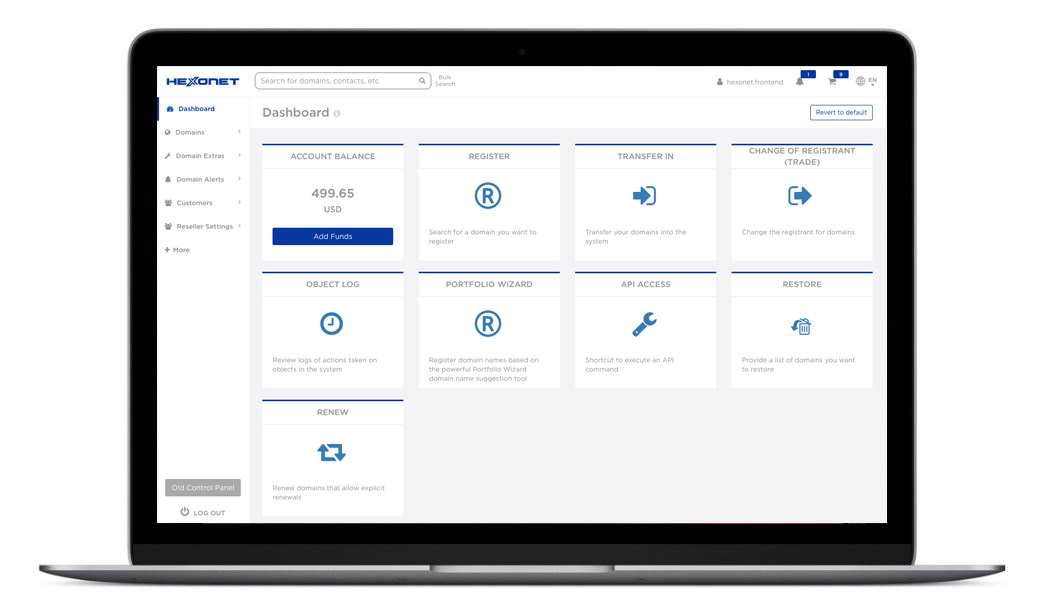 Control Panel Highlights
PRODUCTS
Buy, sell and manage all products
CUSTOMERS
Create accounts, edit and manage all your customers
POWERFUL
Offers many advanced functions and controls not found elsewhere
COMPLETE
New products, services, controls, and more are regularly added
COMPLIANT
Kept fully up-to-date to meet industry and country regulations
CUSTOMIZABLE
Add your logo and colors to make it your own